3: Tradequip Signage
How Saifee Signs branded Tradequip's building interiors, exteriors and fleet vehicles with custom designed signage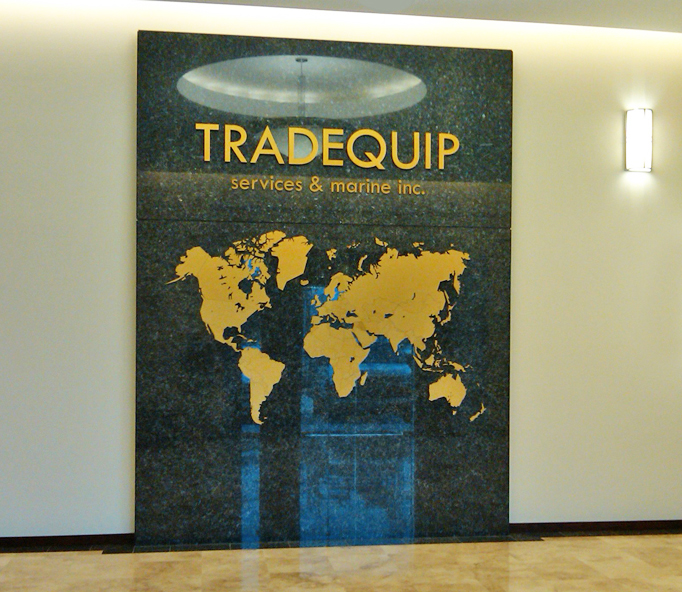 Background
Tradequip is an oilfield equipment company, one of our clients in the oil and gas sector in Houston. Rapid expansion in the sector has led to many clients opening new offices and moving more employees to the Houston area.
Project goals
Saifee Signs was hired to create a sign near the reception desk for a brand new Tradequip office building. The sign had to:
Be awe-inspiring – convey the sense of a grand building and a large, global company
Match the upscale interior décor
Be unique in its design
Saifee Signs approach
We worked with the architect to discuss options, implementation and materials. The final design and materials included:
a world map cut-out accurately representing every country in the world
individually cut pieces for every country, over 200 pieces in all
gold anodized aluminum mounted on a black granite wall to match the black and gold building interior
pieces adhered directly to the granite without drilling or damaging the stone
Challenges we overcame on this installation were
ensuring that all the gold pieces were the exact same color, as not all of them are done at the same time
Our large anodizing tank means we can get even color over large pieces
Assembling a couple of hundred pieces is like doing a giant jigsaw puzzle on the wall with no do-overs. Every single piece, including small islands are all in exactly the right spot
The outline of every country is accurate and waterjet cut to precision
We tested different adhesive systems in advance of the actual installation. This way we were sure that it would work. The pieces were solid aluminum, ½ inch thick and therefore heavy. They also did not have a lot of square footage to which to apply adhesive. Consequently, it was vital that the adhesive was strong enough. Testing various systems gave us confidence in our final choice.
Client
Tradequip Services & Marine,
Houston / Conroe - TX
Fabricator
Saifee Signs & Graphics
Scope
- Site Analysis
- Design
- Value Engineering
- Estimation
- Permitting
- Manufacturing & Installation